Welp
A Yelp clone to leave reviews on real estate properties.
Github: Frontend - Backend - Deployed demo
Uses Ruby on Rails to handle the backend along with JSON web tokens and bCrypt for user authentication.
Serializes and handles data through Postgres with PosGis to store user, property and review data.
Uses React with React-Map-GL for client side rendering.
---
App idea generator
A joke app that mashes api together to generate project ideas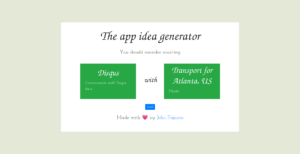 Built on Ruby on Rails
Uses Nokogiri to scrape the list of APIs
---
Artstagram
An art-oriented Instagram clone
Uses Ruby on Rails as a JSON backend server. Seed content comes from the MET museum API.
Frontend is a single page app made in pure javascript.
Uses Semantic-UI for CSS styling.
---
VHS Club
A 90's inspired movie rental app
Uses on Ruby on Rails as a pure MVC app.
Pulls seed data from The Movie Database.
Uses Bootstrap SASS to style views.